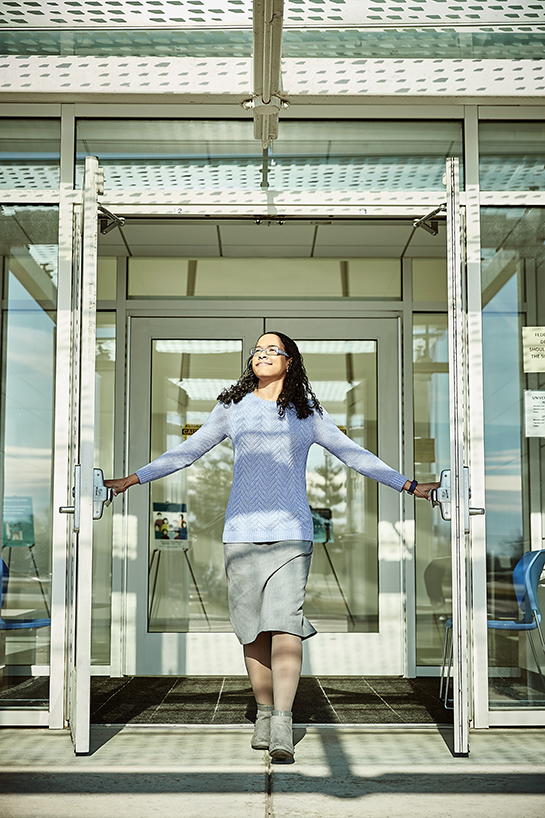 There aren't enough hours in the day for Erin Brooks.
Whether she's animating the physiology of a breathing lungs in PowerPoint, creating a play about kidneys for her students, or relearning optics inside-out to teach students different ways, the University of Missouri-St. Louis is often up until the wee hours of the morning almost seven days a week.
Her goal is to reach students in a way that gets their attention, conceptually guides, and ultimately helps them become great opticians.
"I want my students to be successful," said Brooks. "I use all of these different tools to help them see things. "Oh, you don't understand. Let's see how else I can fix this. What else can I do?'"
Brooks, who received her BS in Chemistry, OD and MS in Vision Science from UMSL, has been teaching at the College of Optometry since 2011. Dedicated to the success of her students, she provides intensive tutoring for those who have difficulty or fail boards at school. She is also passionate about her profession and best known for her efforts in UMSL Eye Care's Pupil Project, which addresses visual impairment in children.
Brooks became known to an even wider audience earlier this year when the American Optometric Association featured her on the cover of their AOA Focus magazine. The story, titled "Optometry's Reflection," examined racial and ethnic diversity within the optometry profession.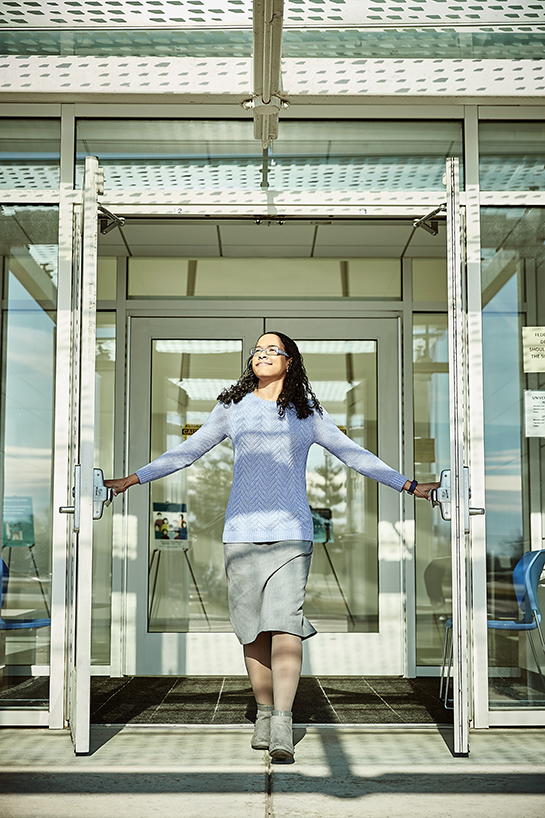 Specifically, it was asked why only 2 percent of practicing optometrists and 3.2 percent of students are black while 13.4 percent of the US population are black and what could be done to increase the presence of underrepresented minorities.
"It's important for patients to see people who look like their doctor," said Brooks. "Just like some people want women doctors because they are female, and African Americans often want African American women doctors because they feel like we understand them better.
"If you look at the history of our country and how sometimes minorities have been treated in the healthcare system, there is a lack of trust. I think it's hard to rebuild trust. It's easier to start with, you see me and I look like you and you feel more comfortable. "
Born to white and black parents, Brooks initially failed to consider herself an optometrist, but her father's encouragement, her fondness for her family's ophthalmologist, and a visit to the UMSL's Pre-Optometry Club inspired her. As a medical doctor, she has done significant work with students at Girls, Inc. – a community outreach program for minority girls – and in schools in Missouri and Illinois.
But even for Brooks, participating in the article and hearing the experiences of one of her students sparked the importance of representation.
"I think I'm unique because I never grew up thinking of being a minority," she said. "Maybe it's not fair to say that I didn't think I was a minority. But I grew up thinking that it wouldn't be fair to pigeonhole myself. "
During high school and the UMSL Bridge program, Brooks was one of the few multiracial students who felt that her experience stood out from her black and white classmates.
"I've been told many times that I'm not black enough," she said. "It's hurtful. I was also often asked what I am, which is really fun. But I wasn't raised to see myself as a minority, and I think that was good for me because I didn't see the barriers that other people might see. I didn't know that these barriers existed. "
Those obstacles came home this year after learning that one of her students chose the UMSL because of Brooks and Assistant Clinical Professor Angel Novel Simmons. The student had met the two of them during the admissions process and felt that she belonged.
Hearing that hit Brooks hard. Because of her other obligations, she had since left the admissions committee. She rejoined.
"I'm back because it's important for our students to interview," said Brooks. "She chose UMSL because she saw people like her. That changed things for me, and yes the article definitely changed me.
"Optometry schools have very few minorities. It's really hard for us to recruit, and it's hard for them to feel like they belong when you, you know, have two people in the class or no people in the class who are minorities. "
Because of this, it's important not just for Brooks but also for prospective students in the United States to be on the cover of the largest affiliate in the profession. The experience was very important to Brooks himself too, especially the cover shoot. She spent several hours with the photographer working hard to capture the meaning of the subject.
"I felt like he was getting that kind of power pose that he wanted to achieve," Brooks said. "As well as posing for this magazine, they're showing minorities in power, and that's important for our patients, for our students, especially for the girls because they can see STEM careers, and I think optometry is one very "valid, sustainable career that does not last quite as long as studying medicine."
Brooks has received positive feedback on the cover photo and article from a broad audience ranging from their students and colleagues at UMSL to researchers and academics and administrators across the country.
Although she already devotes much of her time to public relations, this experience has led her to step up her efforts. She plans to go to more schools to share her passion for optometry.
"I love getting people excited about things," said Brooks. "A lot of people go to optometry school because they have a family member who did it or someone they know who did it. For the most part, you will not find the school of optometry on your own. I love helping people understand what optometry really is. "

Short url: https://blogs.umsl.edu/news/?p=90005